Bookmans News
We do more than our share of reading around this place and curses to Kevin Hearne, Cherie Priest, Angela Knight, Cynthia Garner and Yvonne Navarro for making us desire immortality so that we might find the time to read all the books they've written. Where the Paranormal Hits the Pavement: Urban Fantasy at Tucson Festival of Books mediated by Mark McLemore gave us access to the Urban Fantasy writer's mind, which didn't pervert ours as much as one might think. Why? Because they are funny and unapologetic. Also because Knight curses like a sailor and our little brains haven't developed much since middle school.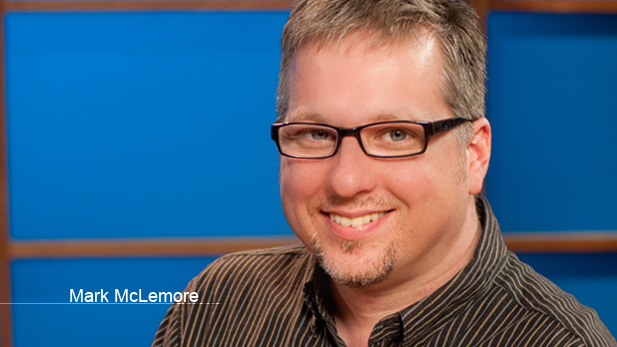 We're using this photo of McLemore because we like pictures but don't want to show favor to one of the authors or violate the copyright of any images -- and also because Mclemore's money shot from Arizona Public Media is really sorta fantastic.
Getting Started with Urban Fantasy
Hearne starts by telling us there's nothing new about Urban Fantasy except in how authors have the freedom to "mash things together" and hang on for the ride to see what happens. A more sentimental Priest got into Urban Fantasy because she was "broke, unloved and at the end of a contract", which freed her up to write about sexy vampires going to town. She gives her preternatural characters modern interpretations (e.g., vampires who struggle with OCD and not superstition, which makes them entirely relatable.
Southerner Knight's writing is less inspired by Blue Ridge legends than the Arthurian ones -- assuming Arthur and his knights were vampires. She enjoys Morgana because she says, "flaming bitches are fun to write." She continues, "I write heroes and I write villains.... Then I kill them with gusto and pleasure." This is not unlike Priest who says of why she likes to write Steampunk, "I try to have assholes and heroes from every demographic." By representing them throughout history she can give voices to those who don't show up in history books.
Garner was looking to distinguish her writing from the other vampire/werewolf stories and the situations presented themselves to her. "I don't know [where they come from], they're just there," she says. Navarro recognizes the genesis of her ideas. For Highborn Navarro sites an image by Wayne Barlow. At this point those in attendance broke into appreciative applause. She wanted to explore good and evil without preaching. McLemore suggests that she achieved this saying, "Readers are enlightened, not threatened, by the character's exploration."
Romance and Sex in Urban Fantasy
Often people don't distinguish between Urban Fantasy and Paranormal Romance. McLemore puts it to Hearne to answer, "What if a man had written the sex and romance found in Urban Fantasy?" Hearne sidesteps the question. "As a high school teacher I don't talk about sex. I pretend it doesn't exist even though students are sucking tonsils in the hallways," he says. His characters prefer having sex off stage. "If readers want that, there are plenty of writers who offer it" (indicating fellow panelists -- all of whom are female). Hearne says he gets bored when he reads sex scenes because he's not the guy having sex. The same is true for his reader who he says want to see fights and maybe some buried teacher jokes.
Priest talks of romance and sex as being a "universal condition of humanity" and so naturally penetrates all fiction, but that while her writing may have some sexual tension that may be interesting, she tends to look at other conflicts. She was once directed to write a sex scene by George R. R. Martin who needed to fluff a lull. She says she did so for the greater profession while we made a mental note to find that scene.
Selecting the City Setting
Secret literary jokes aren't the only thing from his real life that Hearne slips into his writing. He says Phoenix doesn't get love in fiction the way New York, Los Angeles and Chicago do. "Lots of other places matter," he says before encouraging aspiring and established writers in the audience to write about their places. Priest pipes up that she set three books in Chattanooga, TN that no one cared about.
To some degree several novelists consider the pros of writing a small town setting. Knight mentions that as a reporter she learned of the sort of odd stories that don't get reported in larger markets and even in the smaller ones are so far out that one couldn't have fictionalized them better. Others also tells stories of reading small town newspapers and the great stories they contain. Navarro makes the point that an author populates a small town with all the characters, which opens the possibilities in many ways.
Hearne later elaborates on how he writes his hometown saying he keeps the place name and description real as long as good things happen there. When things aren't going to go so well, he will fictionalize the place name and reorient the layout of th place, but it's still based on the reality. Incidentally, Hearne made Google maps of his books.
Books "For the List"

Iron Druid Chronicles by Hearne
Boneshaker by Priest
Kensington Brava series by Sherrill Quinn (pen name of Garner)
Master of Shadows by Knight
Highborne by Navarro
McLemore did a great job moderating this panel. His smooth transitions, ability to highlight each author's perspective and mastery of the clock to flesh out topics without going over time are greatly appreciated. If he were an Arthurian vampire and we were Phoenician Druids we have no doubt it'd be the most epic Urban Fantasy novel ever.
Find @KevinHearne, Cherie Priest, @AngelaKnight, @CynthiaGarner and @YvonneNavarro on Twitter. You can also find @Bookmans Twittering with the hashtag #TFOB as we play in our 1,200 sales booth or enjoy the gorgeous weather and other book nerds at Tucson Festival of Books.